I've never met Ashley Graham. I've never even heard of Ashley Graham. However, I have Sports Illustrated subscription. When her SI cover came across my Facebook newsfeed, I stood up at my desk and applauded my favorite sports magazine. (SLAM, I still love you though).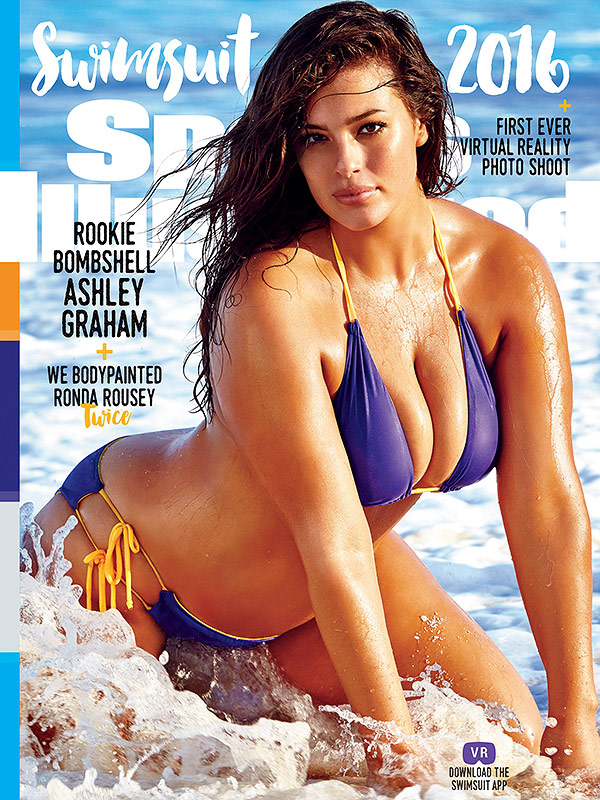 It seemed like 2015 was the year of the plus-sized model. Being a curvy plus-sized gal myself, I was here for it. However, the fashion/beauty industry's idea of plus-sized and my idea of plus-sized differ exponentially. See, in my world, if you're a curvy 8-10, you're just thick in all the right places. Size 12-14…I strive to be you. 16 and up, welcome PLUS-SIZE  BEAUTIES!!! WE ARE FAMILY! Therefore seeing an influx of size 10 models in magazines and gracing the covers spouting First plus-sized model made me roll my eyes a bit…well a lot.
There is nothing plus about a size 10. Even the second digit is a zero. Essentially, in my world, a ten is like a zero in the fashion world…the size we all "want to be". Then Sports Illustrated comes barreling into the new year with Ashley Graham's curvy, voluptuous, and gorgeous SIZE 16 on the cover of the swimsuit edition and I swear, I heard angels singing.
I've always been a thick girl. I had booty, boobs, and hips from the time puberty hit. I went from wearing a training bra to a B-cup in the span of one summer. By the time I hit high school, I was wearing a 36DD and a size 16 pant. I was all hips, butt, breasts, and thighs and I had no issues with it. I wasn't that child who played with Barbies and wanted to be shaped like her. I didn't look at models and other skinny girls and long to be them. That wasn't my experience growing up. However, it was my little sister's. I used to think (and still do) that it was so sad that she was so obsessed with her weight that she couldn't see past it and recognize how beautiful she is. Seeing my sister go through all her challenges regarding her weight and appearance made me look deeper into body dysmorphic disorder and try to find ways to uplift my sister and help build her self-esteem.
Something that I hear a lot is "You're really confident for a big girl." Is that supposed to be a compliment? In this day and age, I guess it is. I am in no shape, form, or fashion advocating an unhealthy lifestyle. However, I know hella "big girls" who are active, healthy, and still wear a size 14-16. My sister exercises more regularly than my old trainer. She also eats healthier than 90% of the people we know. however, the scale doesn't move like she wants it to. It's perfectly okay to be an advocate for BIG, BEAUTIFUL, AND HEALTHY because that is not an oxymoron.
It isn't.
It is not. Don't play with me.
That is why the Ashley Graham cover is so important, especially to me. That woman is fit, fine, sexy, and a size 16. She has the body that a girl like me aspires to have. And it's awesome to have that represented on the cover of the biggest sports publication in the world. Representation matters, in case you haven't realized that. Look at what Mattel is doing with Barbie. The Ghostbusters franchise is making a new Ghostbusters film with female Ghostbusters! Hell, Marvel even made Thor into a Goddess! Then there are magazines like Elle, Cosmo, People, and Glamour, magazines that big girls subscribe to and read, that are putting plus-sized models on the cover.
I certainly hope this isn't a passing phase. Plus-size shouldn't be "what's in" this week/month/year. It's what is normal considering the average American woman is a size 12-14, not the fashion/beauty industry's impossible 0-2.
Sound off!
What do you think about Ashley's SI cover and America embracing what's normal for most of us?